Taxware Bank Enrollment Instructions for 2021 Tax Year
Bank enrollment for EPS, Refund Advantage, and TPG/Santa Barbara banks will be done within Taxware's 2020 Wintax NextGen Program.
Check for Updates: You must have the latest version of Wintax.
Wintax NextGen:  The bank enrollment application must be completed in our Wintax NextGen software, if you do not have the Wintax NextGen program installed, it is available to download from our website. If you need help installing the program, call us at 800-877-1065 and one of our technicians will help you through the process.
Choose "Batch E-File" [05] from the main menu.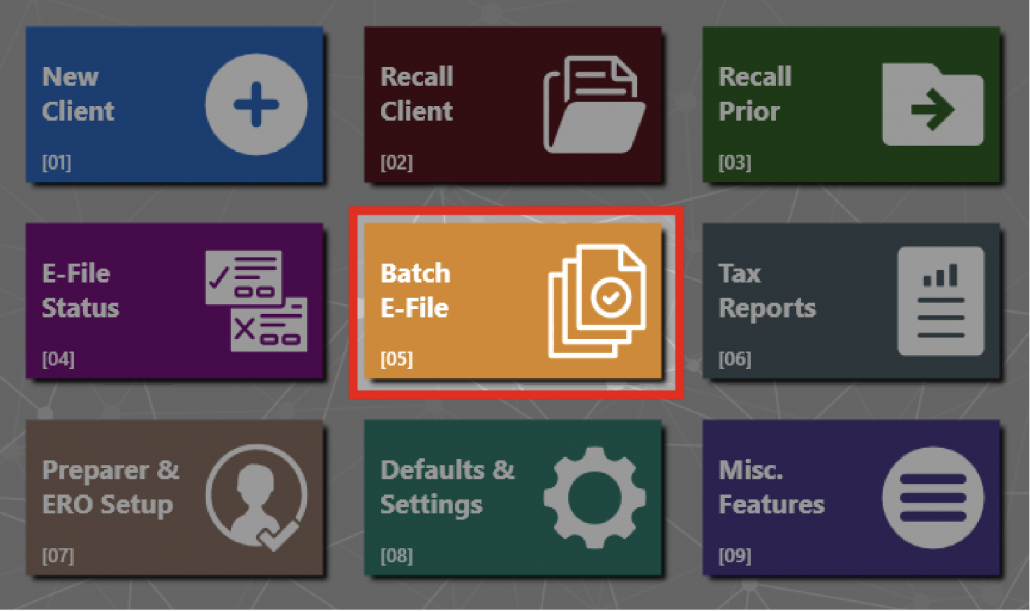 Now choose option [06] 2021 Bank Enrollment
Current Bank Settings Menu: 
In the Bank Enrollment section you will enter the EFIN, Taxware Client ID, and the password you used last year.
If this is your first year enrolling; enter in your EFIN, Taxware Client ID, and a password that you will remember. A new enrollment record will be created if your EFIN is not in our system.
If you are renewing your enrollment, the program will carry your prior year data forward. If you are with Refund Advantage there is quite a bit of additional information. Please take the time to review all items.
If you will be enrolling with multiple EFINs, you will do this process for each EFIN.
If we do not have your EFIN in our records, your EFIN will need to be verified before being able to process bank products. If you see "EFIN not verified", please contact Taxware to get your EFIN verified.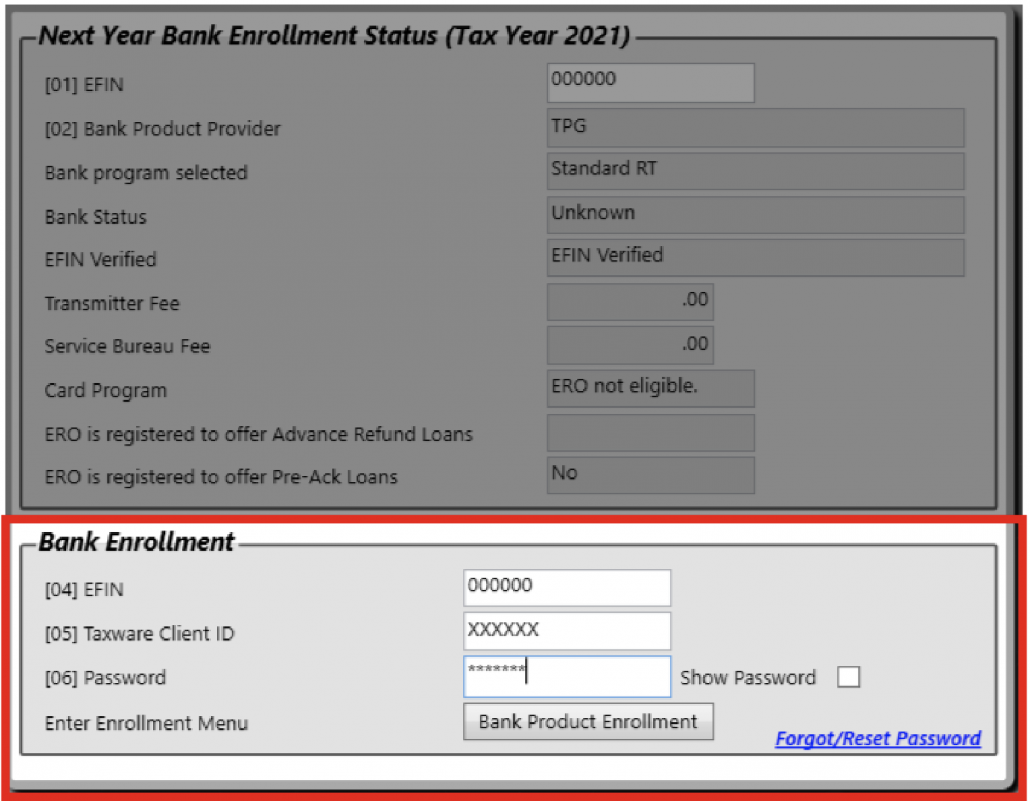 Click on "Bank Product Enrollment" button.
The Bank Enrollment Menu will now display.  Please complete all information requested.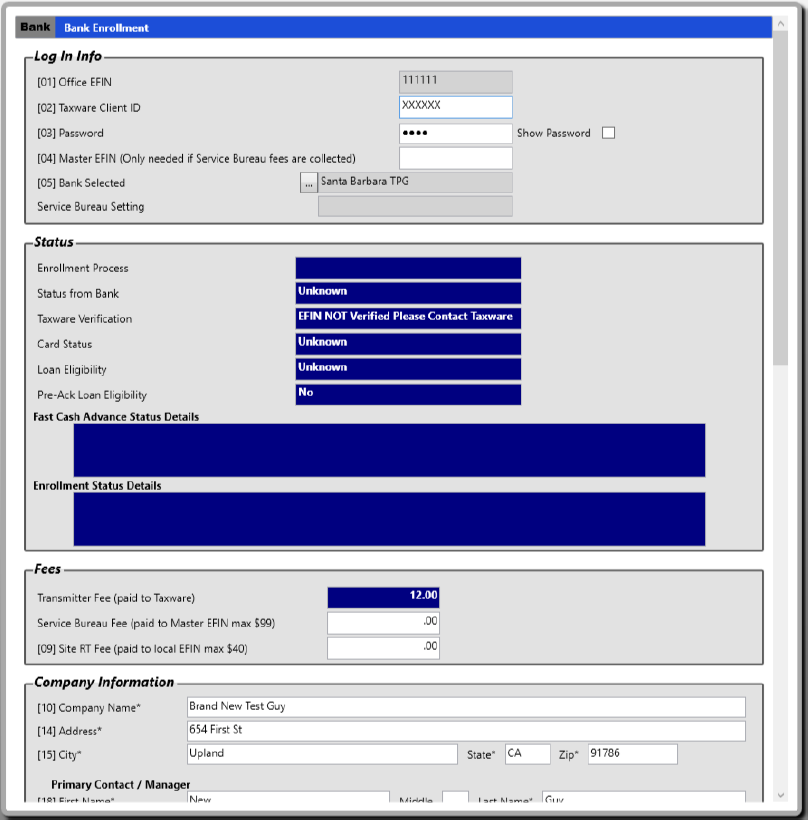 Note for TPG/Santa Babara Users: TPG is now requesting the Business Owner information. TPG is also offering an option to charge the taxpayer a "check administration fee" of $12. This is optional. Select "Yes" if you would like to opt-in to the Check Administration Fee Program. Your taxpayer(s) will be charged a $12.00 check administration fee for each disbursement check (other than checks issued for Fast Cash Advance). TPG, Transmitter and tax preparer participating in program will each receive a portion of this fee. If you choose to opt-in to this program you will receive $4.00 for every disbursement check. Taxpayer(s) may inquire with you to determine applicability of this fee. This fee will be deducted from the taxpayer(s) tax refund proceeds and included in their Refund Transfer disclosures

When complete click on OK at the bottom of the screen. If there are any required items missing or detected problems, these items will show in red. All red items must be corrected before the application will be submitted to the bank.
When you click OK and there are no errors detected, your bank enrollment will be submitted to the bank.
You may return to this application to view your enrollment process and status responses from the bank.