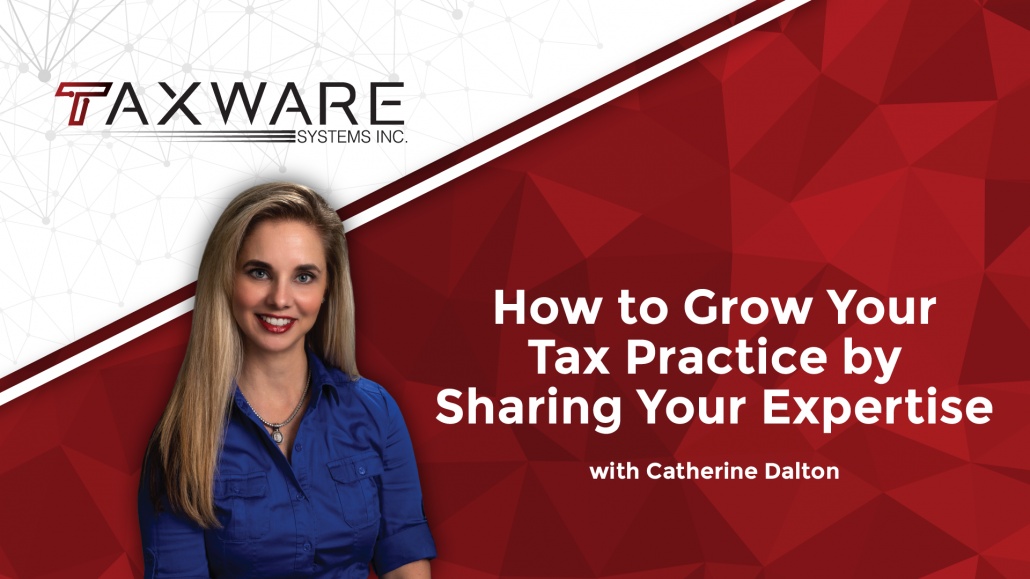 If growing your tax practice is a top priority, we applaud you and are excited to see your success. We all know it can be conflicting as to where to start your efforts in refining your business-building practices. A strong foundation of basic areas to focus on can be found in my article "The Top 5 Ways to Keep Yourself Essential". The "5 E's" of 1. Share your Expertise, 2. Show you Empathize, 3. Be Evident, 4. Exceed Expectations, and 5. Hire an Expert, is the best place to start your brainstorming.
Today we will dig deeper into the best ways to share your expertise, what tools can help you do this in an effective way and what your realistic expectations should be from this effort. And as a bonus, I will share a sample communication plan that can be easily implemented all at once or in phases as it works for you.
Keys to Sharing your Expertise
What to Share
You may be asking yourself- "What do I know that might be of interest and useful to others?" This is an important question because if you write a ten-page article about a topic that your current and potential clients are not interested in, then you are not headed in the right direction.
Think about the top 5 questions you got asked from family and friends at the last dinner party… or zoom call. This is the place to start. These topics are usually timely and top of mind concerns for those that seek your expertise as a tax advisor. The most popular questions from your clients as well as topics in the news are other ideas to be considered.
Remember, this information does not have to be pages long. Short and sweet is what will catch their eye and keep their attention, so don't feel overwhelmed.
How to Share
There are a variety of tools out there to help you create, edit, share, or even broadcast your knowledge. If writing is a challenge for you, you might consider adding Grammarly.com, a free editing solution, to your tool kit to help review your work. When it comes to sharing, you, your employee, or a graphic designer will need a basic knowledge of an email marketing program and have the skills to add your article to your blog. Mailchimp or Constant Contact are good choices for managing and sending your emails. Many of these tasks are not difficult but they do take some study to get them going for the first couple of times. I refer back to my 5 Essential E's when I say that hiring a part-time marketer for your business can be well worth the cost and effort.
Writing is important for many reasons, but video or audio creation can be supreme. Zoom webinars, Facebook Live broadcasts, short social media video posts, and even podcasts can help you build rapport with your audience and should not be overlooked as opportunities for you to connect. Video is proven to increase engagement with your message. So, consider that opportunity for the future if not now.
Where to share
There are many places to share this information in ways that can help your current clients as well as reach out to potential clients. I recommend to first take time to determine the audience goals for your business communication. For example, you definitely want this information in the eyes and ears of your clients for goodwill and retention. This can be done through
a periodically printed newsletter

an emailed monthly or quarterly newsletter

a website blog post
I would highly recommend all three done simultaneously. See the Actionable Bonus Plan below.
Consider other publication outlets. Local chambers, business networking groups, and neighborhood mobile apps are often looking for quality content to share on their blogs, websites, and newsletters. Providing consistent, quality content in a timely manner will ensure your success as a contributing author for their publications.
Determining where your preferred client might "be" is important in determining your priorities in where to share your expertise. Are you seeking to increase the number of business returns you do? B2B topics will be important and sharing your article on Linked In or other commercial platforms may be a good choice.
After determining What to Share, How to Share and Where to Share, the following Actionable Bonus Plan can be the beginning of a content marketing process for your tax practice:
Actionable Bonus Plan
Answer a popular tax question once per month with a short article

Publish the Question and Article on your website's blog right away

Send this article in an email to your clients ideally based on interest ex: If it is a question that only business owners deal with, it may be best not to send it to your individual tax only clients as it doesn't pertain to them. At the same time, they can be a source of a referral to someone who is a business owner and if they don't know of your expertise then they wouldn't know to refer you to their friend, so it can go both ways. My suggestion is to include a phrase in the email like "This information may not apply to everyone, but it is important, and you might be able to share it with someone who will benefit from my experience."

Prepare a quarterly or biannual newsletter to be printed and mailed to your customers, lost clients, and potential clients. Use some of those articles previously shared and include at least one new one as well as other non-industry specific topics of interest to share. Your newsletter should also be emailed and presented as a blog article as well.
But Wait, There's More!
Once these 4 steps are implemented, your articles can be used in a variety of other ways. Here are a few other possibilities to consider:
Share the link to your blog article on your business and personal Facebook or other social media page.

The link to your blog post can be shared by your personal Facebook page in groups that you may belong to. You might encourage a referral by including the following message: "Just wanted to share an article I wrote that might be of interest to this group". As people click on this link to read your article hosted on your website blog, your SEO- Search Engine Optimization, is also likely to improve.

Is texting part of your process? You might consider texting your quarterly newsletter hyperlink to your clients. Don't use texting now? Take a look at Textellent.com. Taxware has a full integration with Textellent to make this addition to your tool kit easier.
Expectations-Keep it real!
You can't expect to communicate with your preferred audience only once or twice a year, let alone, just before tax season, and think that your relationships, retention, and referrals will increase. As mentioned, it is only consistent, quality, and timely information shared with a sincere intention to help your listener, that will be received as authentic and worthwhile.
Results will not be overnight, but you will see them. You will hear them from your clients' comments when you meet with them, and from comments you receive on social media as well. You will find that people have shared your emails and referred your services with friends when you track how new clients chose to work with you.
Sharing your expertise in ways that connect with your current and future clients will happen as you develop your process over time. No effort is wasted as you begin to create the type of content that will be useful to others and help to keep you and your business top of mind. Never forget it is always about improving relationships. The tools and efforts just look a little different than they have in the past.
Every consistent effort you make will help you establish yourself as an authority in your field. As you authentically share your expertise with an emphasis to help and serve your clients you will be respected, and your efforts rewarded with increased client retention and likely many new referrals.
https://www.taxwaresystems.com/wp-content/uploads/2020/10/webinar-cover-oct7-1.png
1080
1920
Chris
https://www.taxwaresystems.com/wp-content/uploads/2018/04/tw_logo_website.png
Chris
2020-10-08 18:33:04
2020-10-19 20:28:17
How to Grow Your Practice by Sharing Your Expertise