W-2 Input
The W-2 Input page has been modernized. We have put special focus on the flow and tab order of the W-2 page.
The W-2 follows the IRS W-2 form. We have added the wizard mode button so that you can turn the wizard flow on or off any time, whether you are in edit mode or enter a new W-2 transaction.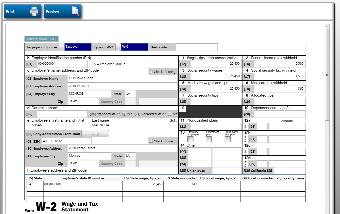 Live View
This is the next evolution to our forms preview and constant calculations. Designed primarily for you dual or large monitor users, hitting the F12 key will open the live view window. This can be dragged to a second monitor or space on a large monitor.
For supported forms, this will then display the active form or schedule. As dollar amounts are changed and calculated the PDF will be instantly updated, giving you even more tax return information at your fingertips.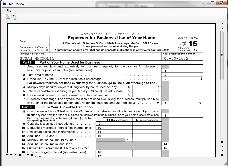 Expanded E-File Tracking
We have enhanced our outstanding e-file tracking system even more. The new system will now handle an unlimited number of state records, integrate seamlessly with the client data grid and includes an A2A server database tab.
The new A2A server tab will show you a two week history of an individual tax return's e-file A2A progress. Also, in these individual data records, acknowledgement files can be re-hung for download and processing. This can still be done through our website but can now also be done here without ever leaving the program.
I have just scratched the surface of the new program and its capabilities. Our posted video will give you a better overview of the new program, so we encourage you to check it out: http://www.taxwaresystems.com/productwintax.html.
We are excited about the new Wintax program. It opens the door to so many additional opportunities for future goals and tools.
Although we are very excited about the new program, we are also cautious. We will continue to support and enhance our legacy Wintax program.
The new program is in a pilot or test year and is limited in state support as well as native forms and schedules. The program natively supports CA, IL and UT and uses the legacy program to support all the other states and federal forms that are not native to the new system. However, most of the other federal forms and schedules are available by linking the new program to the legacy program in the Defaults and Settings page.
-Scott Dalton; Vice President of Taxware Systems
https://www.taxwaresystems.com/wp-content/uploads/2018/04/tw_logo_website.png
0
0
admin
https://www.taxwaresystems.com/wp-content/uploads/2018/04/tw_logo_website.png
admin
2016-12-02 16:07:08
2016-12-02 16:07:08
New Wintax-1040: An In-Depth Look Part 2