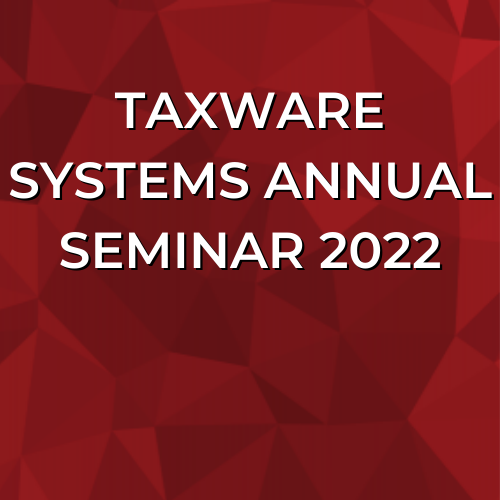 Below you will find all the recordings, additional information as well as a list of the prize winners for each session.  This page will be updated with additional recordings and information over the week of the seminar.
Thank you again for your customer loyalty. We value your business and the trust you place in us.
Tuesday Recordings:
2022 Tax Year – Program Highlights and Enhancements & Taxware Quickstart
TaxComm – The Complete Client Communication Tool
Taxware Systems Partners with Protection Plus
Refund Advantage and EPS – The Benefits of Bank Products for your Business
Wednesday Recordings:
Wintax 1040 & Review of New Laws and E-file
Taxware Systems' Webinar 2022- Entities 101
TPG Tax Products Group – Can Bank Products improve your tax practice revenue?
Detailed Training for New Clients in Spanish Recording:
Detallado Entrenamiento para Cliente Nuevos
Prize Winners!!
Winners from our Tuesday sessions:
Iman N, California is the winner of a One-year Annual Taxbook Web library Subscription
Maria M, North Carolina is the winner of a One-year Annual Subscription to TaxComm
Jongwon C, California is the winner of a $50 Gift Card from Protection Plus
Leonila J, California is the winner of an Amazon Gift Card sponsored by Refund Advantage Bank
Winners from our Wednesday sessions:
Sara F, Ohio is the winner of a Taxbook subscription
Fabiola M, Texas is the winner of a One year Textellent Subscription
Joseph L, California is the winner of an Amazon Gift Card from EPS Bank
Gurwinder G, California is the winner of a Gift Card from TPG Bank
https://www.taxwaresystems.com/wp-content/uploads/2018/04/tw_logo_website.png
0
0
Chris
https://www.taxwaresystems.com/wp-content/uploads/2018/04/tw_logo_website.png
Chris
2022-12-13 22:21:46
2022-12-23 00:04:52
TAXWARE ANNUAL SEMINAR 2022